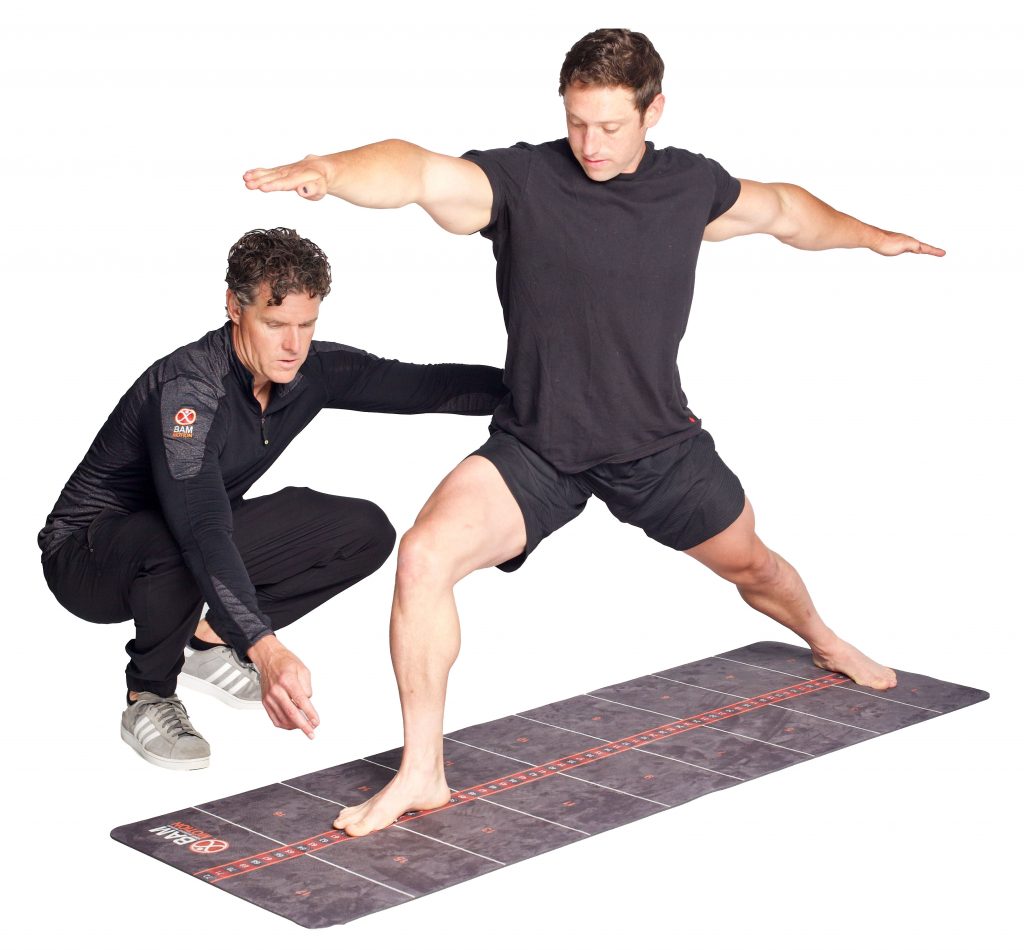 BAM

Certified
Professional Portal
Stop Guessing. Start

Measuring.
Take functional movement to the next level.

Find YOUR METRICS

Track YOUR METRICS
Bodyweight Exercises
Features bodyweight-only exercises designed to improve strength and endurance as well as challenge stability and balance
Mobility Exercises
Features exercises designed to improve joint mobility and increase musculoskeletal flexibility
Equipment Exercises
Features exercises utilizing a variety of standard gym equipment including; TRX, mini-bands, BOSU, kettlebell, Activmotion Bar (ViPR), Ab Wheel, Airex pad and more
This course will introduce the fundamental principles of the BAMmetrics training system of scalable, efficient, repeatable, and measurable training to improve performance.
You will learn to efficiently and effectively implement the BAMmetrics Performance Training Mat into your current training methods to safely deliver progressive workouts while showing measurable improvement.
The BAMmat Performance Training Mat System focuses on these key areas:
 

Assessments
This is the evaluation of the quality of a person's ability to perform an exercise or movement. We begin with first assessing a person's ability or level to perform some basic movement assessments. This tells us their true starting point and helps to create a suitable training roadmap.
Measurability
One of the main BAMmetrics mantras is: "you can't manage what you don't measure" Along with assessing a person's starting point, we believe in constantly measuring progression to monitor progress. Following a protocol of test-retest allows for regular program modification.
Repeatability
The BAMmetrics training system was specifically designed to allow the user to not only assess/measure a movement pattern but also to make it easily repeatable.
We want to not only instill proper movement mechanics but also make them readily repeatable every time.
Self-Sufficiency
The BAMmetrics methodology is highly focused on teaching the user to be self-sufficient when it comes to training. The BAMmat provides clients (users) with the knowledge and instruction to safety and effectively perform any given exercise.

Methods may change but principles do not. By using BAMmat, fitness professionals can easily train clients how to perform any exercise as it was done in the clinic or health club.
The BAMmat Performance Training Mat Course
is divided into 4 main exercise sections: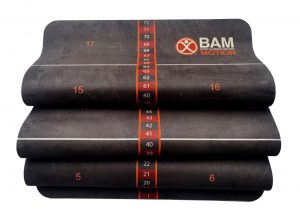 Assessments
Measurability
Repeatability
Self-Sufficiency
Upon completion of this course, you will have a full understanding of how to integrate the BAMmetrics Performance Training Mat to seamlessly implement the BAMmetrics overall training system into your coaching/teaching for clients, patients and athletes of all fitness levels.
 Dimensions: 72" x 26" & 5mm thick
Weight: 8.0 lbs
Patented Dual Alignment Marking System
18 Spatial Boxes (8"H x 12"W)
Incremental Midline Strip (72")
 Non-toxic, biodegradable natural rubbers
Non-slip suede finish
Non-toxic foaming agents & non-AZO dyes
No PVC or harmful plasticizers